Biography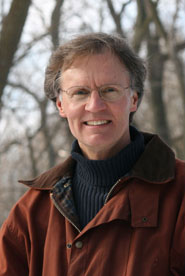 A realist painter and illustrator since his graduation from the Minneapolis College of Art and Design in 1983, Corbert Gauthier has received numerous awards from the Society of Illustrators, Print Regional Design Annual, and Communication Arts Illustration Annual.
With over 35 years of professional experience, he has worked for private, corporate, advertising and publishing clients. In recent years Corbert has placed a major emphasis on Sacred and Religious Art, securing painting and mural commissions from a variety of sources. These projects are a very personal manifestation of his Faith and an all-consuming effort to create the highest quality work that has lasting meaning and beauty.
In addition, he has worked on several mural projects for Conrad Schmitt Studios. Based in Milwaukee, Conrad Schmitt is an internationally recognized company that has been in business for more than a century, creating "timeless interiors and fine works of art for buildings of architectural, historical and religious significance."
Client List Includes: Marian University, Indianapolis, Indiana; St. Joseph's Church, Topeka, Kansas; St. Bernadette Church, Scottsdale, Arizona; St. Michael's Church, Stillwater, Minnesota; Catholic Diocese of Lincoln, Nebraska; Basilica of St. Mary's, Minneapolis, Minnesota; St. James Church, Duluth, Minnesota; All Saints Church, Holdrege, Nebraska; Assumption Church, St. Paul, Minnesota; Ascension Church, Minneapolis; Minnesota, National Shrine of Divine Mercy, Stockbridge, Massachusetts; Marian Sisters, Waverly, Nebraska; St. Anthony's Church, Steinauer, Nebraska; School Sisters of Christ the King, Lincoln, Nebraska; Billy Graham Evangelistic Association, Concordia Publishing; Lifeway Christian Resources, Zondervan Publishing; Harper Collins Publishing, Bison Inc., General Mills, Pillsbury, Target Corporation, 3M, Nabisco, Cargill, Honeywell, Danbury Mint, Bradford Exchange, Land O'Lakes, Quaker Oats, Ralston-Purina, LucasFilms, Pfizer, Macy's, National Geographic, National Car Rental, Reader's Digest, Mattel, American Greetings, Minnesota Zoo and the National Wildlife Federation.
"Do not let what you cannot do interfere with what you can do." John Wooden